Place of Interest:
Keane have played Battle Memorial Halls on two occasions – initially in 2004 and more recently in 2013.  On both occasions it was a 'money-can't-buy' event with friends, family and very lucky competition winners.
On November 18th 2014, Battle's own Richard, Tim and Tom played an acoustic session in their hometown to a rapturous crowd.  KT were lucky enough to be invited and it was so intimate it was like we had a few friends and family round, and then Keane turned up and played in our living room. There were lots of Battle related songs and some very special guests in the audience.  There was lots of banter between the boys and at one point, Richard left the stage and sat amongst the audience. AND Tom revealed how tantalisingly close we came to a major Keane gig at Battle Abbey.  Best of all for us, Keane Trail even got a mention!
A snippet of Sovereign Light Cafe and Somewhere Only We Know recorded in Battle by Peter B.
On August 18th 2004, just as Hopes and Fears was propelling Keane towards global super-stardom,  they played an intimate concert at the Memorial Halls on Battle High Street.  The boys remember their tour bus pulling up outside the halls and how Richard worried about blocking the bus stop and Lloyds Bank. Richard says they thought of asking the driver to continue driving so they could arrive at the venue on foot!  Hear more in our exclusive Keane Trail interview on The Band tab.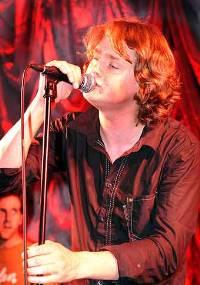 Additionally on 24 October 2014 Tim took part in an expert panel Q&A session as part of Battle Festival of which he's Patron. The session was hosted by Melita Dennett of BBC Introducing and the panel answered questions about writing that killer track, how to get  it financed, what promoters look for when booking bands and how to get your music on BBC Radio 1, Radio 2 and BBC Introducing and more…….